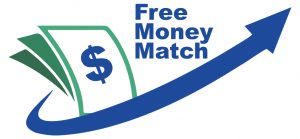 YIS donors want to help you build wealth for retirement by providing Dollar-A-Day Free Money Match Scholarships.
100 YIS Dollar-A-Day participants will be eligible to receive a Free Money Match that matches your contributions dollar for dollar on a quarterly basis up to the number of days in the quarter (e.g., 91 days in a quarter = max match of $91)
If you are lucky enough to be selected to receive a YIS Free Money Match Scholarship, those funds will be distributed at the end of the school year (July) and upon full compliance with the terms and conditions of the program.
Requirements:
Start Learning. Successfully register on the MyYIS Portal and complete Module 1 (these can be found in the MyYIS Portal).
Start Investing. Actively participate in the Dollar-A-Day Challenge (How to participate).
Students lucky enough to be selected for the Dollar-A-Day Free Money Match will need to submit a brokerage statement for the appropriate match to be determined.  Further instructions on how to do this will be given to you if you're selected.
Apply:
Submit a brief write-up (i.e., 1-2 page) using the following prompt:
Can Money Buy You Happiness? Why or Why Not?
Please include your Name, School, & Email address on your essay submission.
The essay submission deadline is midnight (PST) November 30, 2020 for Fall and midnight (PST) Feb. 28, 2021 for Spring.
Winners will be selected and notified by Jan. 2021 for Fall and March 2021 for Spring.
Fall entries are eligible for a match of up to $365.00 for the year. Spring entries are eligible for up to $182.50 for the year.
You can do it! The journey of a thousand miles beings with the first step! Start investing in your future today and watch your savings grow.
Dollar-A-Day Challenge Application