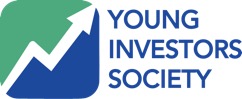 Privacy Policy
At Young Investors Society we are committed to maintaining your privacy. All the information collected on our website will remain private and will not be disclosed to any third parties. Any personal data provided by you will be used by Young Investors Society to fulfill your order; to answer any queries you have; for internal record keeping; and to provide you with updates about our products and services. You can opt-out of our MARKETING material at any time by clicking the Unsubscribe button or by replying to any email we send.
To process an order, we will require your name, billing address, delivery address, phone number, and email address as well as your CREDIT CARD number and expiry date, plus any security details that the credit card processor may require.
How we use cookies
Cookies are very small text files that are stored on your computer when you visit some websites.
You can disable any cookies already stored on your computer, but these may stop our website from functioning properly. You can accept or decline cookies at any time by accessing the preference panels from your browser's main menu (usually found under 'Edit', 'Tools' or 'Options').
On-site advertising and behavioral advertising
Web publishers, advertisers and ad networks – including Google – use cookies and data to optimize advertising effectiveness. For some of our partner offers, we tailor advertising offers based on what you have previously searched for on our website, to help make it relevant to you. If you'd like to opt-out, please go to the Network Advertising Initiative website.
Consent
By disclosing your personal information to us using this website or over the telephone, you consent to the collection, storage, and processing of your personal information by Young Investors Society as stated in this privacy policy. If you have any queries about the way in which your information is being collected or used which are not answered by this privacy policy, please write to us at: Contact@yis.org
Refund Policy
All refund requests must be in writing by sending a request to Contact@yis.org
All refund requests must be received within 30 days prior to the start date of a conference/event or within 30 days of a donation. No refunds will be granted after that. A full refund, minus 5% administration fee will be made within 30 days after the completion of the conference/event or donation. There are no refunds for no-shows.