Young Investors Society 10K for 10K Fundraising Drive!
We are so excited to announce our newest milestone, 10,000 YIS financial literacy lessons completed!
Since 2015, Young Investors Society students have started their financial journey with the YIS program and we have reached over 8,500 students across 45 U.S states and 56 countries!
Help us to continue to provide FREE, quality financial literacy education and programs to students from all backgrounds and socioeconomic levels by helping us raise 10K for reaching 10K lessons!
The Young Investors Society Access Initiative has recently won the Money Awareness & Inclusion Award for Best Financial Literacy Program for Underserved Communities in 2022!
We rely on donors and corporate support to fund YIS programs and are thrilled to be able to expand our programs into underserved areas but need your help.
Your support is extremely important because it offers immediate resources that are directed to current program needs and opportunities to further grow our programs.
Help us reach our goal of $10,000
All donations are 100% tax-deductible.
Checks can be made payable to:
Young Investors Society 31248 Oak Crest Drive Suite 200 Westlake Village, CA. 91361


Venmo: @YoungInvestors-Society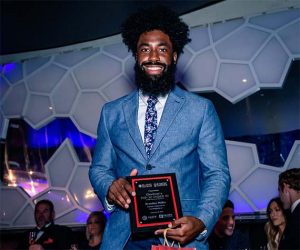 "You see a lot of disparity and poverty when you look at black and brown communities. There is a huge wealth gap there and a lot of it has to do with the knowledge of money, the stigma around money, how people manage their money, and the decisions that are made in those communities, as well as outside those communities that impacts those communities. If we can help the youth to have a better understanding of how to best use their money and how to grow their money and build businesses within those communities, that's one way you can better develop those communities and the next generation to build something greater than what they have now."
-Brandon Miller (Charlotte Independence Goalkeeper & YIS East Coast Advisory Board Member)