The 2020 State & Regional Stock Pitch Competitions will take place during April 2020.
If your club/school would like to host the event for your State/Region, please email Christine Tobin at Ctobin@yis.org
All State/Regional events will be listed on our calendar in the MYYIS Portal as they become available. Events will be scheduled on a first come first serve basis. Registration for the State/Regional events will be OPEN February 15, 2020.
States/Regions hosting events include Hong Kong, Malaysia, North Texas, South Texas, Northern California, Southern California, Hawaii, Nevada, Pennsylvania, Utah, Arizona, New York, New Jersey, Maryland, Ohio, Kentucky & Rhode Island.
Stock Pitch Registration Fee
There will be a $25.00 registration fee for each student that registers to compete in a YIS State/Regional Stock Pitch event. The registration fee will cover the cost of the 2020 Stock Pitch Competition T-shirt, Medals, Lanyards and supplies for all events including the Global Stock Pitch Competition in NYC.
To be eligible to receive the Young Investors Society T-shirt that accompanies registration, online registration must be entered by 11:59 PM PST the last day of early registration on March 9, 2020.
Online registrations after March 9, 2020, are subject to t-shirt availability.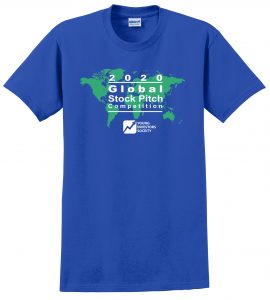 Substitutions, Cancellations, and Refunds
All changes and substitutions must be made in writing. Substitutions may be made without penalty. There are no cancellations or refunds for Stock Pitch events. Students who fail to submit stock pitch reports and/or stock pitch presentations by March 31, 2020, will not be refunded. Contact Ctobin@yis.org with any questions.
Economic Hardship
Students experiencing an economic hardship can request a fee waiver for any YIS event. Please email Ctobin@yis.org for Fee Waiver Registration Code.